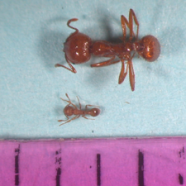 A Tiny New Stinging Ant is Spreading Across Hawai'i!  We take this very seriously and are working with the Department of Agriculture to help stop the spread.  Our plants are tested and safe.  In the past we helped lead the crusade to eradicate Coqui Frogs from Oahu and we regularly inspect our nursery for Fire Ants.  These ants are very dangerous to our workers, animals and potentially to our industry.  Please take the time to inspect your plants…. Use these links to find out how:   Read More for Links
Size comparison between a tropical fire ant and a little fire ant.  Each mark = 1/16th inch.  Photo courtesy Cas Vanderwoude.
Join the Hawaii Sting Operation!
A new invasive species is in Hawaii-the little fire ant. Left to spread, LFA will change everything in Hawaii as it has in other areas of Pacific. You can help stop it. Learn how to identify signs of infestation and report…
404