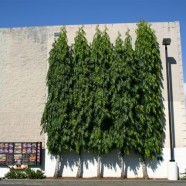 ~ Polyalthia longifolia
A lofty evergreen tree, native to India, commonly planted due to its effectiveness in alleviating noise pollution. It exhibits symmetrical pyramidal growth with willowy weeping pendulous branches and long narrow lanceolate leaves with undulate margins. The tree is known to grow over 30 ft in height but can be topped. In spring the tree is covered with delicate star-like pale green flowers. The flowers are not conspicuous due to their color. Common names include False Ashoka, Mast tree, and green champa. Methanolic extracts of Polyalthia longifolia have yielded 20 known and two new organic compounds, some of which show cytotoxic properties.
Pictured here is the Ashoka planted at a Jack in the Box on King Street. As you can see the (False) Ashoka, common referred to as Ashoka in Hawaii, is very comfortable in very hot environments. It loves the full sun constantly warming its leaves and will thrive even in a concrete jungle. The best attribute of this tree is its ability to form a solid wall of green while only using a small about of ground space.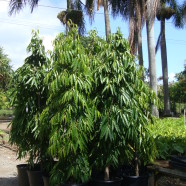 Direct sun, sun to part shade.

20′ to 30′ height.

Average watering.
404