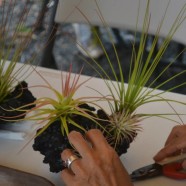 Tillandsias DO have to be watered; they live 'in' air, not 'on' air.
Tillandsias are NOT toxic to animals, although this does not mean your pet won't eat them, but they will survive the experience, your plant might not.
Tillandsias are NOT parasitic; they do not harm the host tree.
Trim away brown, bent or damaged leaves, this will not hurt the plant.
404