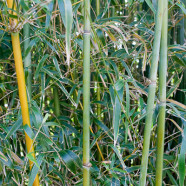 ~ Gracilis (Slender Weavers)
Bambusa textilis var. gracilis
One of our more popular bamboos, the Gracilis is the perfect privacy hedge or windbreak.
The perfect height (20-25′), perfect density and elegant simplicity with green culms and delicate green leaves.
Can be hedged and shaped.  25' tall with 1.3" culms.  Clumping bamboos can be planted without fear of them spreading beyond their assigned territory, making them non-invasive.
Height: 20-25 ft.
Sun Exposure: Sun to Partial Shade
Before / After
404