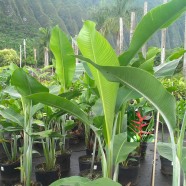 ~ Hot Rio Nights Heliconia
'Hot Rio Nights' has a beautiful solid red flower. The plant is a vigorous grower and bloomer, erect and clumping, Can grow in partial shade to full sun. Blooms throughout the year.
Height: 8-10 ft.
Sun Exposure:
Full Sun; Sun to Partial Shade; Light Shade.
404