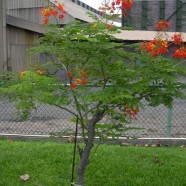 ~ Ohai Alii
Ceasalpinia pulcherrima
This is a very easy plant to grow.  Given full sun and well-drained soil it will perform very well.  It is not particular as to soil type as long as the soil is not waterlogged.  The ohai alii is salt and wind tolerant and quite resistant to drought stress once it is established.
Because of its Hawaiian name, this plant is often thought to be a native plant.  It isn't native to Hawaii, though.   As a matter of fact, it isn't known where it is actually native, but some people believe it is native to the West Indies.  It is widely planted throughout the tropics and has many common names including pride of Barbados, Barbados flower fence, dwarf poinciana, poinciana, peacock flower, red (or yellow) bird of paradise, and gold mohur.
Though it can grow to be a small tree, most people prefer to grow it as a shrub.  To achieve a shrubby growth, prune the plant hard when it is young to get many side shoots to sprout from the lower, main trunk.  Flowers form on new growth, at the ends of the branches.  By pruning regularly you can assure new growth for flower production.  The whole plant can be pruned at one time, the flowers allowed to form and fade, and pruned again all at one time.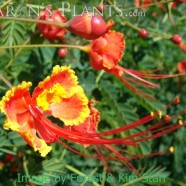 404