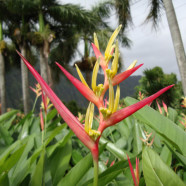 ~ Heliconia Psittacorum
A vigorous plant and prolific bloomer, 3-4 feet tall.
Can grow in partial shade to full sun.
Bracts are hot pink toward the tips, becoming yellowish toward the rachis.  The true flowers are pale yellow with a dark green tip.
Height: 3-4 ft.
Sun Exposure: Full Sun; Sun to Partial Shade.
404