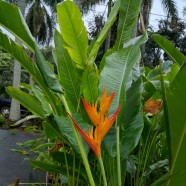 ~ Tropic Fleur
Tropic fleur heliconia are tall, yellow to peach pastel colored upright flowers found throughout Hawaii.
The edges of the bracts are reddish and the flower sometimes thought to resemble bird of paradise.
This heliconia reaches a height from 6-8 feet and is a profuse year round bloomer.
Height: 6-8 ft.
Sun Exposure: Full Sun; Sun to Partial Shade; Light Shade.
404